Welcome to Zoom Physical Therapy.
Let's get to work!
Welcome to Zoom Physical Therapy and Wellness! Where we get you on The Right Path to Better Health! As your local leader in therapy services, we provide personalized, hands-on care for a fast recovery.
Why choose Zoom? Discover the difference! Plain and simple, we ARE the best in the industry. We are always professional and willing to serve and teach you techniques to help yourself. We want to empower our patents to learn how to help themselves because sometimes, you just need a helping hand, and we are here to do that, too! You won't find more personalized care than with Zoom. Your success matters to us!
Our staff is committed to providing the highest quality of care with optimal individualized results for each patient that walks through our doors. Our highly trained therapists are here to listen to our patients needs and design a plan that will improve our patient's quality of life.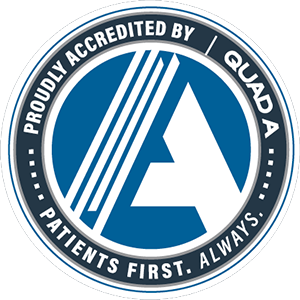 PATIENTS FIRST. ALWAYS.
Since 1980, QUAD A (a non-profit, physician founded and led global accreditation organization) has worked with thousands of healthcare facilities to standardize and improve the quality of health care they provide – believing that patient safety should always come first. At QUAD A, the goal is simple, to be your go-to provider when it comes to accreditation – always striving to be an effective, efficient, and easy to work with partner that values education, reliability, and communication. We call it the QUAD A promise, and it stands at the forefront of everything we do.
Empowering You
The Right Path to Better Health
We believe in teaching you how to take control of your condition and empowering you toward independence and freedom. Most patients heal faster when they are educated on self and home care techniques. Call us today to get started!