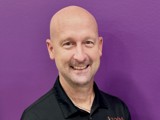 Jon Stefka, PT
Jon grew up just down the road in Cuero, Texas and attended Southwest Texas University where he graduated with his Bachelor's of Science Degree in Health Care Administration in 1997 and with his Master's of Science Degree in Physical Therapy in 2000. Jon has worked in several settings over the years but decided his true passion was working in the outpatient setting. He and his wife Chris opened their first outpatient clinic in 2013. Together they have grown Zoom Physical Therapy and Wellness to 4 clinics across the Crossroads region along with working with several home health agencies in the local area providing therapy services. When he isn't working, he enjoys spending time with his wife and 3 children Jackson, Madeline and Charlie. He also enjoys coaching and/or attending his kid's sporting events, working outdoors in his yard, going to church and supporting youth events in the local area. When asked why he does what he does, Jon's reply was," When I was younger I had many jobs that I knew I did not want to do the rest of my life. Finding physical therapy as an occupation allows me to have a career helping people improve their quality of life and this feels like a privilege instead of work."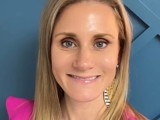 Chris Stefka, BS, PTA
Chris spent her early childhood in Bay City, TX where she enjoyed playing sports. After graduation she went to college at Texas A&M in Corpus Christi where she earned a Bachelor's in Health Sciences and a PTA degree from Del Mar College. Chris and Jon met while she was in school and soon moved to Victoria to be closer to both their families. Chris has worked as a Director of Therapy in nursing homes and as a PTA in various settings for many years until her and Jon decided to open Zoom. Chris and Jon have 3 children, Jackson, Madeline and Charlie. Chris enjoys being a mom, wife and Administrator of all 4 Zoom clinic locations.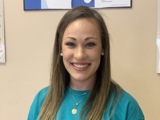 Courtney Herrera, BS, PTA
Courtney grew up In Edna, TX, went off to school at UTSA and obtained a Bachelor's of Science in Sociology. She then moved back to the Victoria area and went to Victoria College to obtain an associates in applied science in physical therapy assistant. Courtney has been with Zoom for more than 9 years and has worked in outpatient and home health. She says she loves working in home health the best because of the flexibility and the ability to help people achieve their goals to safely live at home and improve their independence. Courntey has two children and when she is not working she enjoys spending time with her husband and kids.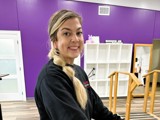 Morgan Jedlicka, PTA, CPT-CNC
Morgan was born and raised in Victoria, TX where she then went on to obtain her Associates of Applied Science of Physical Therapist Assistant degree from Victoria College. Prior to that, Morgan was a patient at Zoom when she was in high school. She was so fascinated and inspired by the field of physical therapy that she chose it as her profession. Morgan has been with Zoom since 2019 and enjoys helping others live a more active, healthy, and independent life. In 2022, Morgan obtained her Personal Training and Nutrition Coach certifications through the National Academy of Sports Medicine to help athletes perform at maximum potential and those of all ages build a healthy and sustainable relationship with physical activity. In her free time, Morgan enjoys working out, playing with her dog Willow, traveling, spending time with friends, family, and boyfriend Sheldon, as well as hunting and fishing. When asked why she enjoys working at Zoom her response was "I enjoy seeing the positive changes in patients lives created by the comradery of my co-workers and I".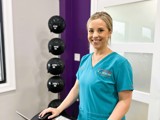 Blair Ripple, BS, PTA
Blair a native to the Victoria area, growing up in Inez before heading to Texas State University earning a Bachelor's of Science in Family and Child Development. She returned to Victoria to obtain her PTA degree at Victoria College. Blair joined the Zoom team in 2017 and has worked in a variety of settings but finds outpatient to be the most rewarding. In her free time, Blair enjoys playing with her son, spending time with her family and traveling. When asked why she enjoys working at Zoom, her reply was simple, "Our Zoom team is like a family, and we are always willing to help each other out."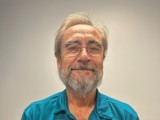 George Hadash, PT
George comes to Zoom as a highly trained outpatient physical therapist. He was raised in Victoria and then moved to Austin where he worked for many years. George graduated from UTMB in 1993 and is trained A-E in the McKenzie Back Program. George mainly works in our Port Lavaca facility and also sees patients in the home health setting as well. In his free time, George enjoys playing in his band, Galaxy, which plays a variety of music. When asked why he became a PT, his response was " because I want to help all who need it."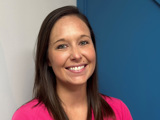 Erin Winfrey, PT, DPT, FAAOMPT
Erin is a Victoria native. She moved on to college at Texas State University where she earned a Bachelor's in Healthcare Administration and graduated in 2015 from University of the Incarnate Word with a Doctorate in Physical Therapy. Erin went on to earn her Fellowship in Orthopedics and Manual Therapy following graduation. She worked in San Antonio for the past 7 years and eventually decided she wanted to return to Victoria to be closer to her family. Erin joined the Zoom team in 2022 and helps to run our Cuero location though, she can also be found at our Airline facility and in home health. When not working, Erin enjoys spending time with her family and just being outdoors. When asked why she wanted to become a PT her reply was, "because I enjoy helping people get back to doing what they love!"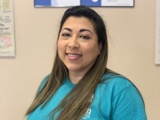 Adrianne Gutierrez, PTA
Adrianne became a part of the Zoom team in 2018 specializing in outpatient therapy after she graduated from Victoria College PTA program in 2013. Adrianne's reason for becoming a PTA stem from a car accident where she had physical therapy herself. She felt that she wanted to help others the way she was helped. While Adrianne loves to treat patients in our Port Lavaca clinic, her favorite population to treat are the kids she sees in the school setting. She enjoys seeing their progress from year to year. In her free time, Adrianne can be found camping with her family or watching movies.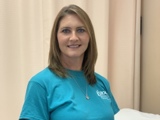 Staci Nicholson, PTA
Staci graduated from Victoria College in 2016. She is one of the longest working PTA's with Zoom. She LOVES to exercise, go camping, spend time with her family and play with her two Goldendoodles. Staci's skills can be seen in our Cuero clinic. She loves the outpatient setting, but truly enjoys seeing her patients progress to "back to normal" in any setting. What she loves most about being a PTA is educating others on health and fitness.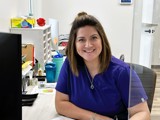 Ashley Chovanetz, Office Manager
Ashley was born in Houston Texas. She developed a strong sense of devotion to patient care and desire to help others when she worked as a physical therapy tech. She quickly discovered a passion for the field and worked her way up to become the office manager. In this role, Ashley is responsible for the day- to- day operations of the clinics. Her strong organizational skills and attention to detail have helped her excel in her role which includes insurance authorizations/verifications which help get the patients the care that they need. Her bubbly personality and infectious laugh can be heard throughout clinic. When not at work, Ashley can be found cuddling up with her family watching a movie or playing with her children.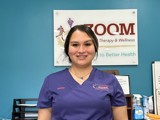 Mallary Alvarez, Receptionist
Mallary joined the Zoom team in 2022 in our Cuero location. She is very passionate about her job and helping our patients get the care they need. She takes her time in organizing patient's charts, verifying insurance and keeping our Cuero facility running. She is currently attending college for a Bachelor's in Business for Leadership and Management. When Mallory is not working, she can be found spending time with her family or planning a new vacation.
Empowering You
The Right Path to Better Health
We believe in teaching you how to take control of your condition and empowering you toward independence and freedom. Most patients heal faster when they are educated on self and home care techniques. Call us today to get started!